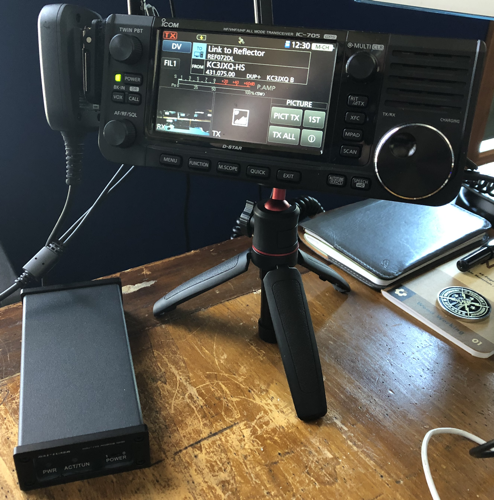 Antenna tuners are a thing to have, right? If you're going to use a less than adequate antenna or just a random piece of wire, a tuner is going to come in handy. At home, I have an attic dipole that's strung from one side of the attic to the other. I usually use my LDG tuner for that with my IC-7100. I have the LDG Z-11 Pro II and it's awesome. It's got a battery clip inside that eats a pile of AAs, it runs off of rig power, and it's not too cumbersome, but I was really looking for a more portable option. The mAT-705, made specifically for use with the IC-705, looked like a pretty good idea. These are my initial impressions of that piece of gear.
Pros. The box is small and rugged. It fits in an admin pouch on my backpack or can be dropped into any number of waterproof boxes that I have for use when I'm outdoors. It's got BNC connectors and a single 1/8″ TRS cable to connect it to the IC-705. It tunes up FAST and works really, really well in my testing so far. That's using both my attic dipole and the MP1 Super Antenna. It's definitely the right size and it hits all the right notes when it comes to being a solid tuner.
Cons. Well, the bummer is in changing the battery. I honestly hope that I never have to do this in the field. It takes a 9v battery that is in a most unfortunate position. Take a look: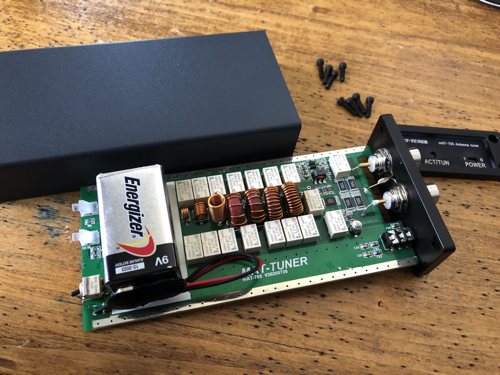 To replace the battery, that entire assembly has to come out. In the manual, it mentions removing the rear 4 screws and pulling it out. That's great if it works. But the battery fits in very tightly. That means taking off the front panel to push a bit to get it out. It doesn't feel good to do this. It's not a simple sliding motion. On the one hand, it's great that it doesn't slide around in the case, but it does make changing the battery feel treacherous. I'll also add that for someone who regularly breaks things because he forgets that not everything responds well to torque, I have to really think it through.
Another downer with this is that the panel one is supposed to tug on is attached only by the BNC solder joints. Again, not instilling confidence.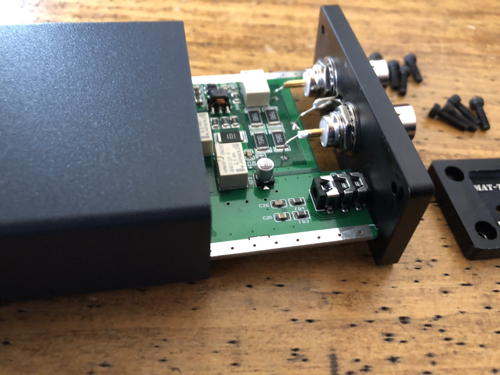 If it turns out that the battery lasts for a long time, this won't be something that I sweat very often. But if I find myself doing this more than once a year, I might figure out a way to power it externally because snapping that PCB would be a bummer.
There are Pros and Cons. What are the things that just sap the joy out of opening a piece of gear? I don't know what to call them, but I'll list the two that hit me.
One of them is a dead battery. Yeah, the battery was dead out of the box. This is how I discovered the pain of opening the case so soon upon receiving it. The other killjoy was finding that the enclosed allen wrench didn't work. It was slightly too small to turn the screws. That was frustrating. Almost frustrating enough to return it, if I'm completely honest.
What's the net? It's a solid tuner. I have confidence that it will be great for my particular purposes. Knowing what I know now, would I suggest it to another new IC-705 owner? Maybe.
My particular requirements are tied to my lifestyle. I'm a dad and husband living through a rather singular pandemic who doesn't have a ton of time for his hobbies. When I do get a chance to get out and play with my radio, I have to be ready to go. It feels like emergency readiness, but it's more relaxation readiness. If I have to pull any component out of my desktop chain to get out the door, that comes out of the minutes that I'm not on the air or heading to the field. So I feel like the mAT-705 is going to be very helpful on that front. It's small, light, and can live in my backpack waiting patiently for me to get out the door.
I will continue to update my thoughts on this piece of gear as I get out more in the coming months. I want to give it a fair shake.